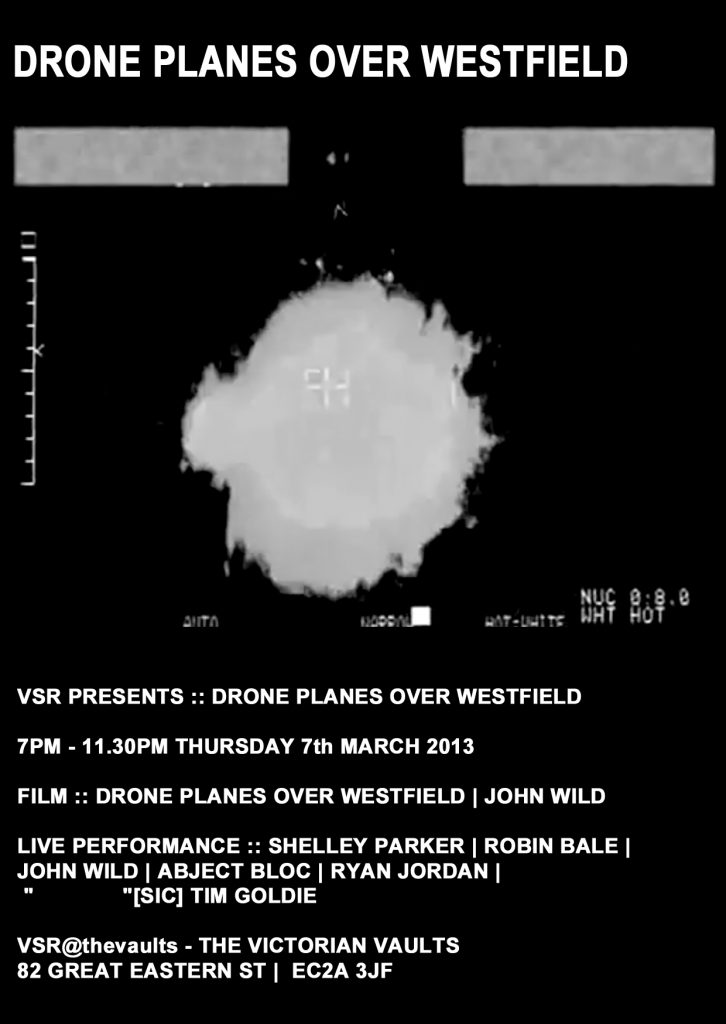 DRONE PLANES OVER WESTFIELD
VSR PRESENTS :: DRONE PLANES OVER WESTFIELD
7PM – 11.30PM THURSDAY 7th MARCH 2013
FILM: DRONE PLANES OVER WESTFIELD : JOHN WILD
LIVE PERFORMANCE: SHELLEY PARKER, ROBIN BALE, JOHN WILD, ABJECT BLOC, RYAN JORDAN, " "[SIC] TIM GOLDIE
VSR@thevaults – THE VICTORIAN VAULTS | 82 GREAT EASTERN ST EC2A 3JF
//////////////////////////////////////////////////////////////////////////////////////////////////////////////////////////////////////////
JOHN WILD
John Wild is an artist, anarchitect, anti-disciplinary researcher, and psychogeographical explorer of digitally expanded space.
RYAN JORDAN
Ryan Jordan is an electronic artist conducting experiments in derelict electronics, possession trance, retro-death-telegraphy and hylozoistic neural computation. His work focuses on self built hardware, signal aesthetics, and the physical/material nature of experience. His live performances make excessive use of stroboscopic light, high volume noise, and electronic stimulation of rocks in an attempt to induce hallucinatory and trance like states
SHELLEY PARKER
Shelley Parker is an artist based in London. Her practice explores the experiential potential of sound and image through the manipulation of technology and the study of structure and material. Live audio feeds, bass frequencies and found sounds are recurring themes within her performance, installation and music production.
ROBIN BALE
An explorer of "Dub Aesthetics", the function and construction of fictive aural spaces and their political/psychic implications
" "[sic] TIM GOLDIE
" "[sic] TIM GOLDIE, drums, voice, credit card, bird whistle, mirrored computer, guitar amplifiers etc.
"Defusing preconceptions of what a live event should be and degrading its components – the sound, the performance, the audience – without imposing aesthetic or moral limits: this is the reason for being of Tim Goldie's character " "[sic]. Ferocity and immobility, instruments abused and unused, musician zombiefied in his 'stage persona' and in general the sense of psychosis, of necessary superfluousness that gushes from every gesture, from each decision." Valerio Tricoli
ABJECT BLOC
"… ear-shattering, mind-stretching music, or noise, whichever you prefer. John Cage would have loved it" – The Independent.
//////////////////////////////////////////////////////////////////////////////////////////////////////////////////////////////////////////